Science Fiction Sound Effects

HD – Science Fiction Sound Effects library is a high definition set of 1,351 specialty sound effects selected from Sound Ideas General HD 1 and 2 collections. All digitally recorded at 24 bit / 96 k, these broadcast wav files are fully embedded with metadata and each HD – Science Fiction hard drive also comes equipped with 16/44.1, 16/48 and 24/48 audio files. From Telemetry Readouts to Wormholes – Sci Fi Soundscapes to Servos – Cyber Communications to Plasma Explosions - these outstanding specialty sound effects need to be heard to be believed. This library is also available as a download.
The hard drive version includes a complimentary copy of Sound Ideas MetaDigger Software - an easy to use program designed to display, search and export metadata details from broadcast wav and mp3 audio files.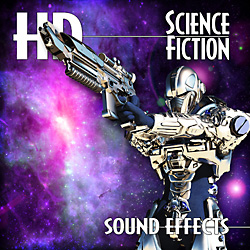 Features:
1,351 sound effects
Digitally recorded audio files in stereo at 24 bit / 96 kHz
Each hard drive also includes the 16/44.1, 16/48 and 24/48 versions
Also Available as a Download
Broadcast wav files fully embedded with metadata
Sound Effects include:
Telemetry Readouts
Cyber Communications
Space Ship Equipment
Space Environments
Wormholes
Sci Fi Weapons
Plasma Explosions
7487

 
Prices do not include VAT or shipping