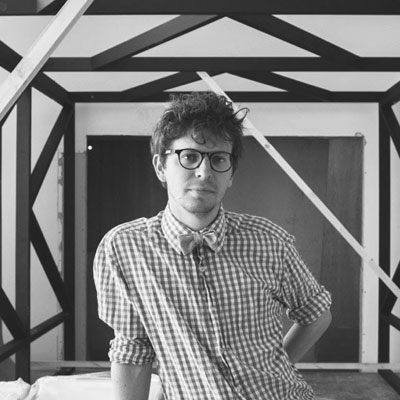 Dom James
What were your first memories of music and when did you first start playing an instrument?
My first few memories of music were attending an orchestral concert, listening to my parents Eurhythmics albums, and singing at church.  I discovered the clarinet when I was seven and only played that with the idea of playing sax at some point, as I really liked Clarence Clemons from Bruce Springsteen's E Street Band.  I've stayed with the clarinet ever since and still love discovering new things about this simple wooden tube.
I went to Westminster Cathedral as a boy chorister. That's where I really learnt to read, write and most importantly listen to music. It was a true grounding in harmony, musical discipline, ensemble playing and music as a lifestyle. I got into playing guitar when I was around 15, before getting totally stuck into jazz at university.  This changed everything for me as it represented the kind of freedom that I'd experienced in jazz bands, but with structure and composed nature of my classical upbringing.  I love jazz and this will always be a part of my music making.
What are your early experiences of composing and producing?
The first few things I wrote were for clarinet and for choirs in the annual Christmas carol competition. This was a lot more competitive than some of the demoing I do these days! I wrote a whole pile of songs for my band at high school and then got really into arranging for big band. I was really lucky to win a music scholarship to Eton College. They had a great recording studio where I really learned how to engineer and produce on some great gear under the guidance of the head of music technology Nick Goetzee. 
What are your main interests and inspirations when writing music now?
I draw from the city around me, the musicians I play with and the various things that happen in my life, which I try to keep as fun and full of love as possible. London is a great place to meet other musicians and everyone's always desperate to find their musical soul mates. I've been very influenced by New Orleans music of the last 120 years, and I try to channel the soul grooves of this music into what I write.  
I like recording sounds from all over the place, and being inspired by unexpected textures and colours that I capture. I also love working with voices, and am constantly inspired by the way people sing together and each person's distinct way of harmonising.
Your work with de Wolfe has been very diverse. What is your process when writing for these different styles?
Yeah, I basically just write music that I like to listen to, it's pretty simple. For sure, some of the pastiche or traditional styles, like the 40s swing album, is directly inspired by that era and arrangement styles. Otherwise I just get writing, and try to get lost a little bit in a sound world which then ends up as a tune. Then I iron it out a bit into the 3 mins or so that I know works well for users of de Wolfe libraries.
The didgeridoo album was mega fun to make as I spent a while with Bear Love, a top London player, learning about his didgeridoos, magos, yidaki and clapsticks. Did you know that didgeridoos are hollowed out by termites? Amazing. Covering lots of musical ground as I do with de Wolfe does mean that I get to immerse myself in other people's musical world for a bit, which I love. 
You are an extremely busy person. What other things are you involved with? 
I spend a lot of time rehearsing and playing with my jazz band, The Dixie Ticklers. Over the last ten years or so, we've travelled all over the world. I'm currently writing a new album of acoustic electronica for my production alias, Le Slip, so hoping to find a label and maybe play some shows with that project. I love the current state of electronic music and I think there are more gifted musicians than ever making music in this genre, from bass music to ambient. 
I recently scored my first show for Royal Court Theatre, and I'm also writing an immersive musical with a friend of mine. We hope this will involve the audience bringing any instruments they play – each night there will be a totally different orchestration.  I've also just finished writing music for a really cool new immersive bar experience by my friends Bompas & Parr in Borough Market, London, where you breathe in your drinks instead of taking them in a glass. I worked on their boob bouncy castle last year in New York and love all of their projects. It's always off the wall! 
London's underground jazz scene is almost entirely driven by musician promoters doing it for the love. I run a monthly residency on The Golden Hind at London Bridge called Jazz Nursery, which showcases some of the best contemporary jazz groups in the UK. We've just received an Arts Council Grant for our work, so we'll be working really hard to bring lots more amazing musicians to the fore.